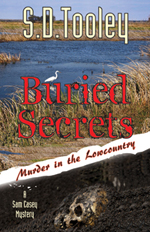 Book 8 -- Buried Secrets
When Jake Mitchell receives a desperate call from a friend, he and his wife, Sam Casey, venture east to a small town near Hilton Head, South Carolina. The friend has no memory of the previous twenty-four hours, doesn't know how he ended up in a sleazy motel, nor does he recognize the dead woman lying next to him. The lowcountry is known for its history of wars, Indians, hidden treasure, voodoo, root curses, and century old secrets.
Just the perfect place for Sam's talents!