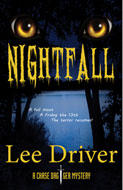 Nightfall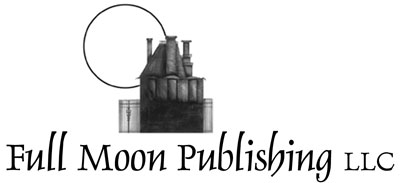 Full Moon Publishing LLC publishes non-traditional mysteries, books that combine mystery with an element of paranormal, fantasy, or horror.
Since May of 1998, our books have received excellent reviews from traditional and internet publications.
Sub-rights have been sold for audio book, mass market paperback, and large print. Our titles are sold in the U.S., Canada, the UK, EU, and other countries. In Australia, our titles are sold via the Espresso Book Machine.
BOOKSTORES AND LIBRARIES:
Our titles are available through Ingram and most other wholesalers or order direct from Full Moon Publishing.
READERS:
If you can't find our titles at your favorite bookstore or library, ask them to order copies.

Some titles are available in Audio Book through Books in Motion
Order: www.booksinmotion.com
Phone: 1-800-752-3199

Some titles are available in large print from Ulverscroft UK
Email: sales@ulverscroft.co.uk
www.ulverscroft.com

EBOOKS:
Smashwords carries all titles in a variety of formats whether for the Nook, KOBO, iPhone, iPod or other eReaders.

For the Sam Casey Series, go to
www.smashwords.com/profile/view/tooley
For the Chase Dagger Series go to
www.smashwords.com/profile/view/Driver

You can also go direct to Amazon:

New in Non-Fiction
Humorous Commentary


How voters turned into shuffling zombies and other rants from a senior citizen!

Available in Trade Paperback
and eBook formats
Amazon
Smashwords
Other ebook sellers — Kobobooks.com, Powells.com, Ebookmall.com, Diesel-ebooks.com, Booksonboard.com, eBooksAboutEverything.com, and barnesandnoble.com.
If you have any questions or concerns, feel free to contact:
Dee Holder
Senior Editor
Full Moon Publishing
433 Mystic Point Dr.
Bluffton, SC 29909

Phone: 219-688-3093
Email: fullmoonpub@sc.rr.com
NOTE: At this time we are closed to submissions.